We get a fair amount of winter wonderland themed shows every year. While we don't handle event design or rentals, we do provide winter wonderland themed ballerinas.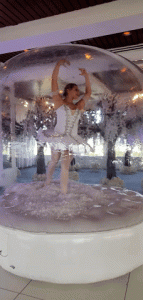 We can provide a ballet show with 1-4 ballerinas for weddings and other events. Our ballet show is set to classic ballet music and features beautiful white costuming.
For weddings, we can also provide a short entrance before the performance.
For children's parties, our dancers can provide a short lesson and then take photos with guests.
For any event, our ballerinas can also greet guests or provide ambiance dancing.
We provide ballerinas for bubble sphere or inflatable snow globes. The dancers pose and perform simple balletic movements inside the sphere. Our dancers perform 10-15 minute ambiance sets inside a snow globe or other inflatable. Guests love to take photos in front of a dancer inside a bubble.
We have bubble spheres that can be used on land, or we can refer our clients to a planner with an inflatable snow globe rental. (Please note dancers cannot dance en pointe nor perform complex movements inside the snow globe due to the inflatable base, but they usually can inside a bubble sphere on land.)
As always, it's best to book early. If you are planning a winter wonderland themed event for this winter, now is the time to book your dancers!
For questions about bookings, please contact our director:
Kelsey
info@nocturnaentertainment.com
323-552-9181.